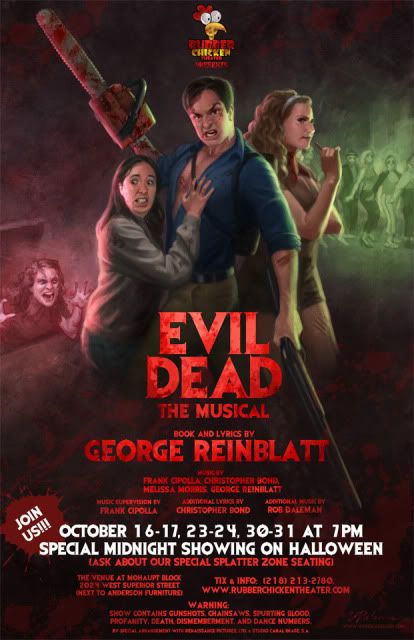 October 16-17, 23-24, 30-31 7pm
Midnight show on Halloween, too!
Staged at The Venue at Mohaupt Block in the Duluth's West End.
It's splatter, it's comedy, it's Splat-stick entertainment!
$15 per person
$25 for limited Splatter Zone seating!
Call (218) 213-2780 for tickets and information.
Based on Sam Raimi's 80s cult classic films, EVIL DEAD tells the tale of five college kids who travel to a cabin in the woods and accidentally unleash an evil force. And although it may sound like a horror, it's not! The songs are hilariously campy and the show is bursting with more farce than a Monty Python skit. EVIL DEAD: The Musical unearths the old familiar story: boy and friends take a weekend getaway at an abandoned cabin, boy expects to get lucky, boy unleashes ancient evil spirit, friends turn into Candarian Demons, boy fights until dawn to survive. As musical mayhem descends upon this sleepover in the woods, "camp" takes on a whole new meaning with uproarious numbers like "All the Men in My Life Keep Getting Killed by Candarian Demon," "Look Who's Evil Now," and "Do the Necronomicon."
With (in no particular order):
Jantzen Payne (Fake Shemp)
Cory Regnier (Scott)
Nathan St. Germain (Ash)
Minden Anderson (Annie)
Anders Hultstrom (Ed)
Katie Hawkes (Cheryl)
April Cary (Fake Shemp)
Chani Ninneman (Linda)
Jen Bergum (Shelly)
Ric Stevens (Jake/Moose)
WARNING: THIS SHOW CONTAINS ADULT LANGUAGE, BLOOD, CHAINSAWS, GUNSHOTS, AND WACKY ZOMBIE DANCING.