Some of the records left at Gabriel's Books in Lakeside were 45s with classical music, or pops classical music, at least. It occurs to me that some readers will not know what a single is. The 45 is an interesting medium; its history is traced here.
One small album was of songs composed and conducted by Franz Lehár [see Wikipedia, 30 April 1870 – 24 October 1948]. Lehár was an Austro-Hungarian composer.
"Lehár is most famous for his operettas – the most successful of which is The Merry Widow (Die lustige Witwe) – but he also wrote sonatas, symphonic poems and marches. He also composed … waltzes (the most popular being Gold und Silber, composed for Princess Pauline von Metternich's "Gold and Silver" Ball, January 1902), some of which were drawn from his famous operettas. Individual songs from some of the operettas have become standards, notably "Vilja" from The Merry Widow and "You Are My Heart's Delight" ("Dein ist mein ganzes Herz") from The Land of Smiles (Das Land des Lächelns). His most ambitious work, Giuditta in 1934 is closer to opera than to operetta. It contains the ever popular "Meine Lippen, sie küssen so heiß" ("On my lips every kiss is like wine")."
Our Gabriel's donor gave the bookshop a book-like album set attributed to Lehar [no diacritical mark on his name, to diminish his Eastern European heritage, maybe — his birth name was Lehár Ferenc].
Lehar was a complicated figure in wartime Germany; Wikepedia maps it:
"Lehár's relationship with the Nazi regime was an uneasy one. He had always used Jewish librettists for his operas and had been part of the cultural milieu in Vienna which included a significant Jewish contingent. Further, although Lehár was Roman Catholic, his wife, Sophie (née Paschkis) had been Jewish before her conversion to Catholicism upon marriage, and this was sufficient to generate hostility towards them personally and towards his work. Hitler enjoyed Lehár's music, and hostility diminished across Germany after Joseph Goebbels' intervention on Lehár's part. In 1938 Mrs. Lehár was given the status of "Ehrenarierin" (honorary Aryan by marriage). Nonetheless, attempts were made at least once to have her deported. The Nazi regime was aware of the uses of Lehár's music for propaganda purposes: concerts of his music were given in occupied Paris in 1941. Even so, Lehár's influence was limited. It is alleged that he tried personally to secure Hitler's guarantee of the safety of one of his librettists, Fritz Löhner-Beda, but he was not able to prevent the murder of Beda in Auschwitz-III. He also tried to prevent the arrest of Louis Treumann, the first Danilo in The Merry Widow, but the 70-year old Treumann and his wife Stefanie were sent to Theresienstadt concentration camp on 28 July 1942, where Stefanie died in September and Louis died on 5 March 1943.

"On 12 January 1939 and 30 April 1940 Lehár personally received awards from Hitler in Berlin and Vienna, including the Goethe Medal. On Hitler's birthday in 1938 Lehár had given him as a special gift a red Morocco leather volume in commemoration of the 50th performance of The Merry Widow."
Presumably, the owner of these records was buying a night at the theater, brought home — not a complicated politics.
…
Johann Straus is also among the discs, in a three-record set of "Acceleration Waltz," "Blue Danube," and "Roses from the South."
Note that the "Acceleration Waltz" is nearly ten minutes long — far too long for the early recording technologies of the vinyl single. So it makes up side one of the first record and side one of the second record. An automatic record changer would cycle through side one of the first record, then one side of the second record, and so play the whole piece.
This is how an automatic record changer worked, for the youth:
Limitations breed genius, yes, and limitations change how we experience art. There may never be a piece of music that cannot be streamed in its entirety, anymore — no need for this kind of thinking-around-a-limitation.
…
Perry Como is represented in my bag sale finds, singing with "Hugo Winterhalter and his Orchestra" and with "The Ray Charles Chorus." Songs of all faiths, it says, and the kid in my wants to know where the songs for the FSM are. I left this at the volunteer desk at SLH, knowing the average age of volunteers means someone might get a kick out of it.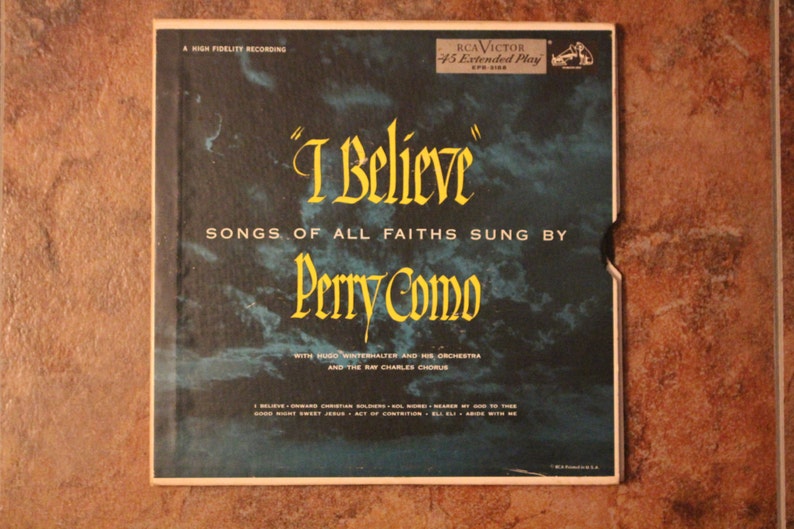 …
The Melachrino Strings, led by George Melachrino — a new discovery for me, in the bag.
Melachrino was English, of Greek and Italian descent, Wikipedia tells me.
"He joined the Army and received training at the Corps of Military Police where he became a P.T. Instructor. Melachrino also gained experience as a military musician at the Army Broadcasting Department, as Musical Director for the recording of entertainment for overseas forces, leading the British Band of the Allied Expeditionary Forces and the Orchestra Khaki. After the war, in 1945, he formed the George Melachrino Orchestra, an orchestra that became synonymous with sweet and melodious music."
I am enjoying their version of Edith Piaf's "Padam… Padam."
…
Arthur Fiedler conducts Boston Pops for Golden Melodies.
And the Robert Shaw Chorale gives us "Four Great Choruses."
… while Kostelanetz Conducts Columbia Masterworks.
Honestly, I'm trying to imagine this music as "fun" to listen to. The family curled up around the Victrola, listening to an album selected because of the name recognition of the conductor, as a popular medium. It feels distant to me.
Today, the NYT tells me that "2.5 percent of album sales in the United States" are classical music. I am imagining grey hairs and hi-fi stereos, but these were a pop form in the 1950s.