How do I catch you up on the past week, PDD?
Last Thursday, I went to the reopening of the Tweed. Mayor Larson was there, exciting. Ken Bloom directs one of the most significant cultural resources in the region. Bill Payne's tenure as Dean of the School of Fine Arts at UMD made great things possible for the Tweed, too.
I viewed an exhibit by Lance Gellert with John Gregor of Coldsnap. Nice to see an exhibit alongside a professional.
I snacked the cocktail meatballs with other folks … Kathy McTavish, Sheila Packa, Catherine Meier among Duluth art luminaries. It was a night to see and be seen. Which may be why I left after an hour. I love the art and I love these people, but I am being stretched a little thin.
Friday, I visited with Chris Godsey and Elias Mokole at the Red Herring for the Jazz Lounge of Darin Bergsven. Chris and Elias are among the most reflective teachers I know, and in being so, are among the most reflective men I know. I was surrounded by good music, the cool breeze (spring opens the garage doors at the Herring) and the best conversation.
Saturday, Tim Broman and I had our last dinner at the Old Country Buffet. The OCB has been with me since childhood, the last place I knew to serve meatloaf that reminded me of grandma. Absent its salad bar, my veggie consumption will fall. Only one human at a time on Saturday.
Sunday, I lounged at home until I went to Barnes and Noble to read the DNT. Stretched thin. No humans today.
Mondays, I usually run a game night at Rogue Robot. But not this week. But I will next week. We will meet at 5:30 at for dinner, then move at 7 to Rogue for (probably) "Student Bodies" and "Zobmondo." Join us?
And last night, all the energy I saved up by avoiding people, I spent at the Depot for Singles Night, week three.
About seven people were returning — community building, I think.
There were ten tables, so the first 12 people dutifully sat at separate tables, refusing to interact. I moved to the center of the room and said: "We could all drink at home alone cheaper." (This is true; the dollar beer had not arrived yet.) "Why not have a conversation?" One of the men replied "What is that?" and returned to his phone. A table full of young ladies nodded but said nothing. I went back to my table.
A few minutes later, two ladies arrived, and I am glad they did. I walked over and told my story of woe, and I asked whether I could place my drink on their table and chat. I reached into my pocket and pulled out eight Storycubes and asked whether they had ever used them.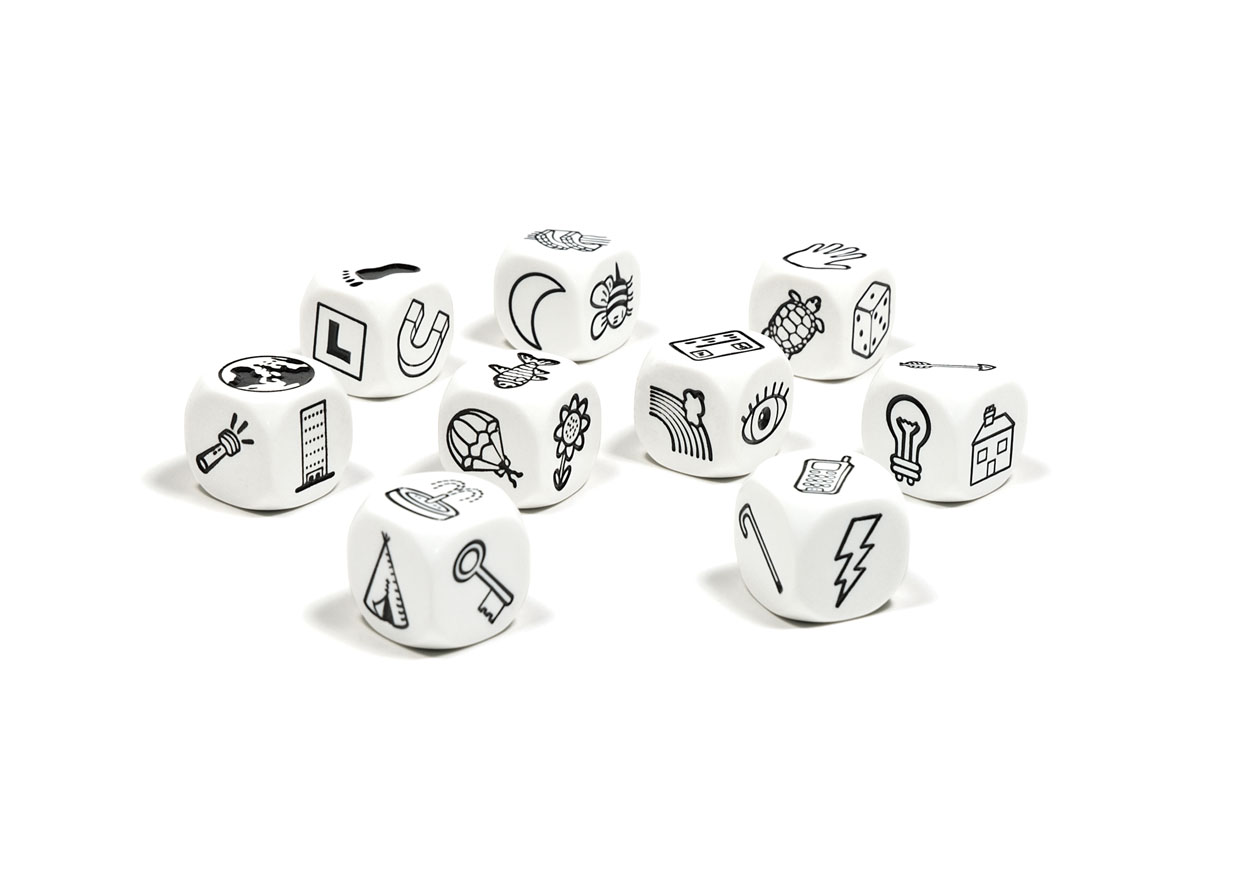 You roll the cubes, pick four, and tell a story. While the stories are fiction, you can learn something about the person — about the person who was stung by a bee on her eardrum, for example, as a child. About the person who is a member of Lake Superior Writers but who was anxious about making up a story on the spot.
The sound of dice rolling caught a few people's attention. Others, I just pointed to and said: "come over and roll a story with us." (No one knows what I am talking about when I say "roll a story." Most of the time, they walk over because they don't understand what I am asking. Whatever works.)
I'm grateful to the ladies for being willing to take the storycubes risk. Once the dice rolled, it was easy to bring four others over to play, too. And then we had not awkward silence, but a mixer, with an IT guy, a veteran, a writer/DECC worker, and two folks in medical insurance type stuff, alongside the professor with the pocket full of dice.  With the right crowd, and this table became the right crowd, even my Rock Paper Scissors dice were fun.
The pizza and potstickers arrived, with some tomato skewers and noodle salad. I used that as a moment to move to another table, to introduce the story cubes to a truck driver and a county bridge worker. I was excited because another person took the leap to walk over and join us. So did two more ladies, and we became the favorite table of the DJ.  (The event is sponsored by DJ Trivia.) The DJ is an on-air personality on KQ92, I think, a sponsor of the event.
We played with the storycubes, although the DJ couldn't quite get the hang of it. His mind was somewhere else, probably on making sure the music was working the mood. (DJ: I would like to hear "I Think We're Alone Now" next week, if for no other reason that it will tell me whether you read this and heard that she was a favorite at our table. Personally, I would love to hear some Kylie, too.)
I noted that the reason I brought the storycubes was because telling stories inspired by dice is a low-stress way to interact. (Someone asked how often I use these dice, and I said: anytime communication is awkward.)
One person made me melt at a moment, saying something like: "I'm also interested in more real conversations, more deep conversations." I was kind of taken aback. I was so interested in making sure that strangers felt comfortable talking to strangers in a safe, if superficial way, I had lost sight of one of the possible goals of a night like this: to see whether you can really connect with someone.
I reached into my pockets. (Cue double entendre jokes about "what else you have in your pockets" from three different people over the night — when we feel awkward, we turn into twelve year olds.)  I brought two decks: the Barbieri Tarot and the Happy Tarot.
I don't do tarot readings. That is a spiritual act which I will not traffic in. But I asked that we shuffle the cards together, so that everyone had a connection to the cards. Two people shuffled the cards literally together:  half the deck in each hand. They were two strangers. It was adorable.
Then each person took a card. The question I asked was: how does this card speak to you? I did this at two tables.
This is the "temperance" card from the Barbieri tarot, for example. Some saw a mermaid, some saw a water goddess, some saw her as dangerous, some saw her as strong (we shared what we saw in the cards together).  People told stories of the moments they felt that they were underwater and moved to the surface, stronger for it.
Another card, with a dragon mounted by a warrior woman, caught laughs when one person suggested it spoke to him of his ex-wife and the way she rode him.
I drew a card with what looked to me like a city in a beautiful snowglobe. I talked about how, for the first six years I lived in Duluth, I did not like it here — I felt "trapped" in this "not quite city" (having only lived in metro areas of one million and three million people before I moved here). To be honest, I started posting here on PDD to remind myself of the good things.
Now, instead of pounding on the glass from the inside of the snowglobe (wanting out), I appreciate Duluth's beauty by pulling back, a larger perspective.
The Happy Tarot is a little more uplifting.
We had lots of comparisons to Strawberry Shortcake (a significant number of attendees this time were children of the 1980s and after). The cards often illustrate contentedness, which was awesome, too.  People saw in the cards that they were ready, stable, happy.  Two people shared that they finally feel like they have worked past the pain of their last relationships and ready to begin again. (I guess that's why you come to a singles night, but there is something awesome about hearing someone willing to voice that.)
I laughed, self-conscious that I had brought a deck covered with candy to a table with a dentist.  I'm not sure the cards got us the kind of meaningful conversation the person above was talking about, but we got closer.  As we left, I saw that some phone numbers were exchanged.  If it works out for them, I am totally taking credit for it.  If it doesn't, blame Aaron, the event planner.
I'm hopeful folks will come back next week and pick up the conversation. (I'm thinking about what will be in my pockets next week — probably Zobmondo. Someone suggested "Cards against Humanity." I don't want to blush that much.) Maybe some new folks will read this and come, too.